Clients ...

cli·ent
noun
1.
a person or organization using the services of a lawyer or other professional person or company.
"insurance tailor-made to a client's specific requirements"

2.
(in a network) a desktop computer or workstation that is capable of obtaining information and applications from a server.


Prelude:
I've had the good fortune of having many clients over the years, the experience of which cannot be put into words, and their value cannot be overstated.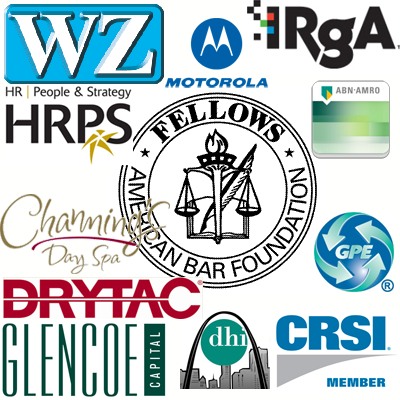 Selected Client::
ABDoors
ABNAmro
AEGIS (Diazo industry Council)
BFG GROUP
Channings Day Spa
The Coleman Group
Clarke, Poynton & Associates
CRSI
Delta Consulting Group Inc.
DHITristate
Drytac Corporation
Environmental Futures, Inc.
Excel Forms
Flash Logistics
Cycle Logistics
Gift Sender
Glencoe Capital
Global Private Equity
Cypress Consulting
Human Resource Planning Society
International Educational Resources
Illinois High Reach
International Reprographics Association
Jamaican Backroad Adventure Tours LLC
Joyce Brothers Moving and Storage
Joyce Records
The Jensen Group
High Potential Inc.
Motorola Cellular Services, Inc
A&G Inc (Textiles)
New Prospects
Predict, Inc.
ProEd Corporation
Susan Kroeger LTD
Wagner Zip Change
Global eHealth Solutions (WeAreHipAA)
The Weber-Valentine Company
Oliver Wight, LLC
American Bar Foundation
AGamers, Inc.
American Street Dreams, LLC.
DePaul University Dept of Finance